Hanoi welcomes the first tourist of 2019
02/01/2019
German tourist Timo Kux was in for a surprise when he arrived Hà Nội on the New Year Day – he is the first foreign tourist to the capital in 2019.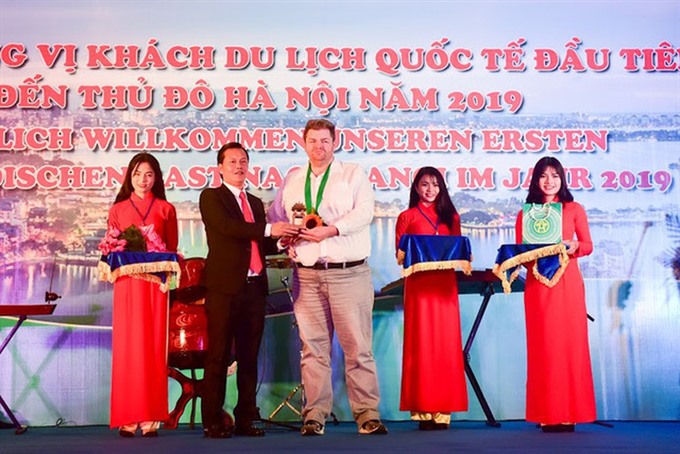 Hà Nội's Department of Tourism Director Trần Đức Hải (left) greets the city's first foreign visitor of 2019, German tourist Timo Kux.
The special guest has been warmly welcomed by representatives from the Hà Nội's Department of Tourism, the national carrier Vietnam Airlines and the Nội Bài International Airport right after he stepped off the airplane that landed on the Nội Bài Airport on Monday, January 1.
Speaking at a welcome ceremony in the airport, Kux said he has visited Việt Nam regularly over the past six years.
"Every year, I come to Việt Nam three or four times to visit different region of the country. Every place I have been to is very beautiful and has left a strong impression on me. In the near future, I want to invite my Vietnamese business partners to come to work with me in my country," he said.
According to director of the Hà Nội's Department of Tourism Trần Đức Hải, Hà Nội has become a favourite destination of millions of international tourists over the past years.
"Hà Nội also has been voted by many of the world's most prestigious travel magazines as one of the most interesting destinations, not only in region but also in the world. Your decision to select Hà Nội as your first destination in the New Year Day promises to bring good luck and success to yourself as well as to Hà Nội tourism during the year of 2019," Hải said.
The official also said in 2019, the Hà Nội tourism department would try their best to achieve their goals in both quality and quantity.  
"We will continue to co-operate with relevant bodies to diversify tourist products, especially the products related to culture; to promote tourism further; and to apply technology to advance tourism services."
On New Year' Eve, despite chilly weather in Hà Nội, thousands of people including foreign tourists flocked to the walking streets in downtown area to countdown to the New Year.
T.A
A wide range of art shows were held during the night. As the clock ticks down the last hours of 2018, a dazzling New Year countdown party was held at the Lý Thái Tổ Square by Hoàn Kiếm Lake. The programme, which started from 10pm and lasted until 0.15am on the New Year Day, was broadcast live on VTV1 channel. A lineup of famous artists performed.
Meanwhile, various other art performances also took place during the night in several spots across the city such as Đông Kinh Nghĩa Thục Square, August Revolution Square, Mỹ Đình Stadium, Hàng Đẫy Stadium, and Thống Nhất Park. — VNA/VNS

Read more at http://vietnamnews.vn/life-style/483038/ha-noi-welcomes-first-tourist-of-2019.html#Pi5ecJgORLuZlmXE.99