Heritage of Hermes on display in Vietnam
28/10/2019
A whiskey flask made of pewter, glass and leather is one of the intriguing items displayed at the Hermes Heritage exhibition, which opened on Friday in Hà Nội.

Director of the Hermes Conservatory of Creations, Marie-Amélie Tharaud shows visitors the first silk scarf of Hermes made in 1937. — Photo courtesy of organiser
In the shape of a camera, the flask belongs to the private collection of Emile Hermes, son of Hermes founder Thiery Hermes.
The exhibition doesn't only showcase items relating to the Hermes brand during its development, it also uses smart devices and QR codes to help viewers enjoy and understand the objects in a modern way.
When visitors scan the code of the whiskey flask, a virtual wine bottle appears on the screen and fills the flask up.
Other items on display include a letter opener made from silver and sapphire in the shape of a rotor blade. With a smart device, you can see the letter opener rotate.
With the theme 'In Motion', the exhibition takes a fresh look at objects from the Emile Hermes collection, a remarkable cabinet of curiosities, Hermes' archives and contemporary collections, and items stored at the Conservatory of Creations, said curator Bruno Gaudichon.
"The exhibition offers a unique balance between values and history, between modernity and roots," he said.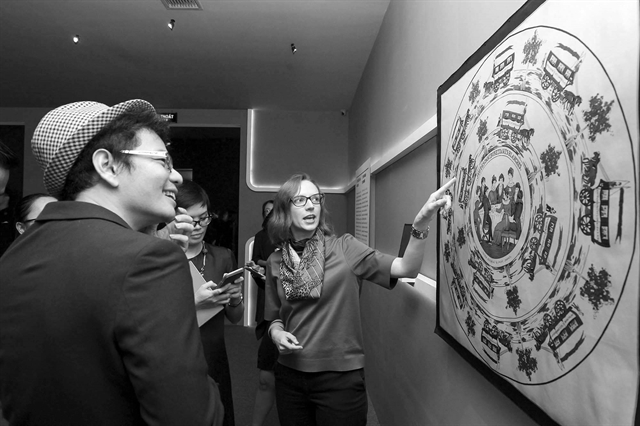 A visitor uses smart device to react with items displayed at the exhibiton. 

Director of the Hermes Conservatory of Creations Marie-Amélie Tharaud said the exhibition displays proud inventions of Hermes, such as the Inversables, a set of glasses mounted on mobile rings.
"Created in the 1930s, the structure formed of eight rings mounted on an axis in a pivoting frame maintains the glasses in a vertical position no matter how rough the seas.
"Other exciting mechanisms include the Pippa writing desk which is useful when opened, and once closed, it is put away and forgotten about; the cane picnic basket conceals, well hidden in its upper part and a battery of cutlery.
"The exhibition showcases objects that carry within them the desire to take off, to go elsewhere, to ramble and roam," she said.
The exhibition will run until November 3 at the Temple of Literature, Hà Nội. —
VNS